King's Chambers
The Kings Chamber is inviting and reassuringly traditional, with a hint of bravery and imagination, with exquisite materials and painstaking detail.
Arrival is via a private gated entry, driveway and entrance portico covered by scrambling roses.
The suite comprises a private entry hall, lounge/ dining room, bedroom and ensuite bathroom.
Experience the romance of private dining at an antique oak trestle form table with cruciform feet in front of a spectacular ornamental baronial style fireplace with a blazing log fire.
Antique German piano, resplendent carved European antique oak cupboards and rare James Ballantine, Scottish antique ecclesiastic stained glass windows, circa 1890, create this unique and escapist suite.
An Impressive 23ct hand gilded heritage feature timber beamed ceiling accentuates and defines the room.
Exquisite antique French clocks, circa1820, antique bronzes and Meissen statues and Napoleon III gilded cushion mirrors, echo magnificent and indulgent times past.
An antique Continental King Size hand painted half canopy bed is layered with the finest of Italian cotton and silk bedlinen.
Liberty & Morris & Co linen and velvet fabrics and Scottish leather add texture, luxury and style.
Brintons finest plush Axminster carpet is velvet soft underfoot.
A bay window overlooks a picturesque and colourful hedged garden with topiary and ancient elm trees.
A dramatic glass walled ensuite with colourful heritage/antique tiled bathroom with an abundance of light, overlooks a tranquil pond and parterre garden.
Every detail is crafted to honour the vision. A genuine sense of place and authenticity.
1x smart TV 1xLCDTV with integrated DVD
Bose Wave CD Player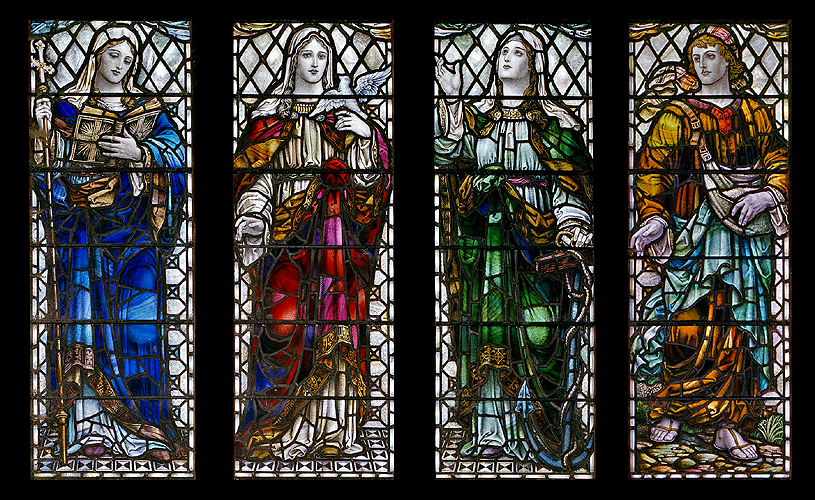 Queen's Chambers
The Queens Chamber is a rich tapestry to delight the senses. Entry is via a semi circular staircase.
Fantasy and romance are entwined with intricate refined plaster detail, artistry and design.
Captivating rooms adjoin a large open terrace for alfresco dining with expansive tree top views and sunset vistas beyond the battlements.
A majestic king sized four-poster English Elm bed with carved heraldic lions draped with GP&J Baker fabric and French Houlés tassels creates a magnificent centrepiece.
An antique French Bureau de Dame and elaborate French antiques create a unique ambiance.
Luxurious Brintons Axminster carpet is plush and velvety soft underfoot.
French tapestries provide harmony of colour, richness and texture, highlighted by a rare signed French Aubusson embroidery and an antique Raingo Freres French bronze and marble ormolu silk suspension mantle clock, circa1820.
Antique Meissen and Sevres C18th porcelain and Waterford crystal create stunning and precious displays.

A C18th Dutch restored candelabra hangs in the centre of the lounge room.
Mood lighting enhances the romantic ambience.
Rare 1890 Ballantine &Co Scottish stained glass window panels enchant.
65″ smart TV & LED TV with integrated DVD Bose Wave, Bluetooth CD /Radio
Nespresso coffee machine with inbuilt cappuccino.
An ambience of calm and romantic refinement with exquisite detail and sweeping views.
Castle Chambers – First Floor
Imagine knights and fair damsels, fortified stone walls, dragons and dungeons.
A stone spiral newel staircase joins the two levels.
French hand loomed tapestries, luxurious and extraordinary handmade French Declercq silk tassels.
Curated antique furnishings, colourful hand painted centrally vaulted ceilings, a grand, ornamental stone working hooded fireplace and an ensuite spa bath create wonderment.
The bathroom with bespoke granite vanity and 2 person spa bath has recently been fully renovated.
The private lounge/ dining room wall is hung with a stunning heraldic tapestry.
Down-filled winged armchairs provide the ultimate in comfort and relaxation.
A gilt bronze English wall clock 1860 keeps time during your stay.
The bedroom has a Continental King size C19th carved bed-head; walls are adorned French hand loomed wool and cotton tapestries.
On the lower floor there is a recently renovated kitchenette with granite benchtop.
Wide screen Smart TV and TV with integrated DVD
Nespresso Machine with integrated Cappuccino maker
Castle Chambers – Ground Floor
Experience the magic of enchanted forests. Inspiring and and captivating.
Dream peacefully in a K S carved oak four-posted bed adorned with playful squirrels, oak leaves and draped in exquisite European woven tapestry fabrics. Down topped mattress.
Curated antique furnishings and original artworks.
Rustic and romantic, fortified stone walls are hung with French heraldic tapestries.
Artisan embellished wooden shutters and enchanting and whimsical feature wall panels in this storybook castle.
The recently renovated bathroom has a 2 person spa bath.

Underground-cellar inspired private lounge/ dining room with Georgian Gothic oak chairs, circa 1740 and carved refectory table. kitchenette with granite benchtops.
Rustic flagstone paved private courtyard/terrace with English box hedging and topiary.
Smart TV 45″ and Bose Wave CD player
Tower Room
Ascend a spiral staircase in a crenellated tower to this dramatically designed room with sophisticated, flamboyant and creative décor with rare, signature antique and bespoke furniture and objet d'art.
The Tower has a strong visual aesthetic with rich colours and luxurious materials. An arresting antique life-size Auguste Moreau bronze statue, 1890, creates a dramatic statement upon entry. A French ormolu gilded clock circa 1840, and a C17th carved oak cupboard add interest and authenticity.
Divided into sleeping and living zones. An exotic Queen size original ornately hand carved Ebony bed creates a stunning centre piece, with French antique gilded bedside cabinets.
The ensuite bathroom has an opening gable roof window, deep porcelain spa bath and separate rain shower. Storage is provided in a walk-in wardrobe/luggage storage area and concealed wall cupboards.
Antique French gilded bergere chairs are covered in a luxurious Verel de Belval, Parisian velvet.
Luxurious velvety custom milled Brinton's Axminster carpet. Luxury hand worked crewel embroidered wool curtains.
A richly carved, circa 1880 antique dining setting for private dining is located by the bay window.
Uninterrupted and sweeping treetop views to the rich sunlit horizon. Uncompromising authenticity highlights the magnificent architecture.
Widescreen TV with integrated DVD Bose Wave CD
Nespresso coffee maker
Observatory
A stone spiral staircase entry leads to a unique tree top retreat.
Golden painted stars shine like jewels in the sky above a circular semi-sunken spa bath.
Luxurious L'Occitane en Provence, French bath and body products are provided for your enjoyment.
It is a room of dramatic architectural features embellished with golden stenciled and hand painted friezes.
A sense of historic opulence is created by the ornate French gilded featured antique furniture.
Wooden shutters in the lounge/ dining room, echo the designs from the bedroom.
A carved Georgian, English oak table /dining setting creates the setting for a romantic dinner for 2.
Concealed kitchenette and mini-bar.
Rooms feature a leather sofa and bergere armchairs, and a whimsically carved C18th English oak timber King size bed and side cupboards.
Polished timber floors are laid with Hali pure NZ wool and silk rugs.
Bedroom panoramic windows take advantage of the peerless vistas, with uninterrupted views over treetops to the horizon.
There are amazing and sweeping hill and valley views from the unique hilltop location, often with extraordinary sunset displays.
The autumn view is always a delight.
A steeply vaulted timber beamed ceiling radiates from a collar beamed pinnacle in the tower bedroom.
Smart TV/TV with integrated DVD and Bose Wave CD player.